Finding trends to make designs for can be a difficult endeavor. Where do you go to find the latest trends? And once you find a good source for trends, how do you evaluate the suggested trends so that you are not wasting your time on designs that are not going to sell? Let's talk about it…
Considerations
Before we talk about where to find trends for your print on demand designs, lets take a moment to put a couple warnings out there. First, remember that everyone who does print on demand is also looking for good sources for design trends, we all want to get in on the ground floor for that next viral design. Second, if you rely on YouTube or blog articles for your weekly source of trending designs, realize that your sales for that design will often depend on when you get your design completed and uploaded for sale. If your source uploads a video or article on Sunday and you wait until Tuesday to start working on your designs, many other designers will be in the market with that design before you, and the market for that design will be saturated.
A trending story
The freshest and least competition source for trends will always be the news. This can be from twitter, a local or national news station or even Facebook. Who has time to watch the news all day? Nobody, but it is a good source. As an example, one of the designers I have been mentoring for a long time made a design last year using the phrase "it is what it is". The designer happened to be watching the news the night that the story broke and within a couple hours he had a design created, tuned, and uploaded. The phrase went viral in the Print on Demand world and the designer did very well for the short time the phrase was a thing. This is a good example of noticing a trend, creating a design, and uploading while customers were actively looking or shirts with the phrase. The shirts sold great for the first few days and then sales held steady for three weeks. This is the lifetime for many trends, the first few days will do great then as the trend is fading you will see steadily declining sales as more designers get into the market for that trend. This is the problem many PoD designers see; they find the trend too late and unless their designs are above average (not using Canva or other template sites) they generally hit the market for that trend after the initial sales rush is over. The late to the party designer will see a few sales (or likely none) and get frustrated.
Competition
This can be difficult to hear, but designers who chase the latest trends but lack graphic design skills are the most likely to fail at print on demand, or struggle with sales. If you take one thing away from this article, know that the best way to make a decent number of sales on Redbubble, Teespring or other PoD services is to offer good quality designs that stand out from the crowd in a low competition niche. The number one thing you will hear from anyone offering advice on Redbubble or PoD will tell you that you need to find a niche that you are passionate about and is low competition. If you start out your PoD journey by jumping into the Pets or alcohol general niche, you are jockeying for a place at the table with well established designers. Unless your cat design is amazing, don't expect to do well in an oversaturated niche until you get established in the market. Now, if you drill down into a niche to a smaller portion of it, like cats and coffee or cats and marathon runners (as an example, but these are also pretty saturated) you can expect to sell significantly more units that if you stayed in the general cats niche.
Do you suggest paid options?
My answer to this is meh. I have been mentoring designers for a long time, and I have seen some do well with the paid services, but generally designers who find their own sources for trends make more sales than having a service spoon feed you the trends to work on. Much of this depends on how much time you must devote to your print on demand business. If you have time to watch the news and can move quickly to get a high quality design out to market, you can do well. As before, realize that there are a lot of other designers who are frustrated and struggling like you are and looking for that easy source of trends. The way to succeed in business is to find a way to differentiate yourself from the crowd. If everyone is using the paid services and making the same shirts, how many do you really think are succeeding?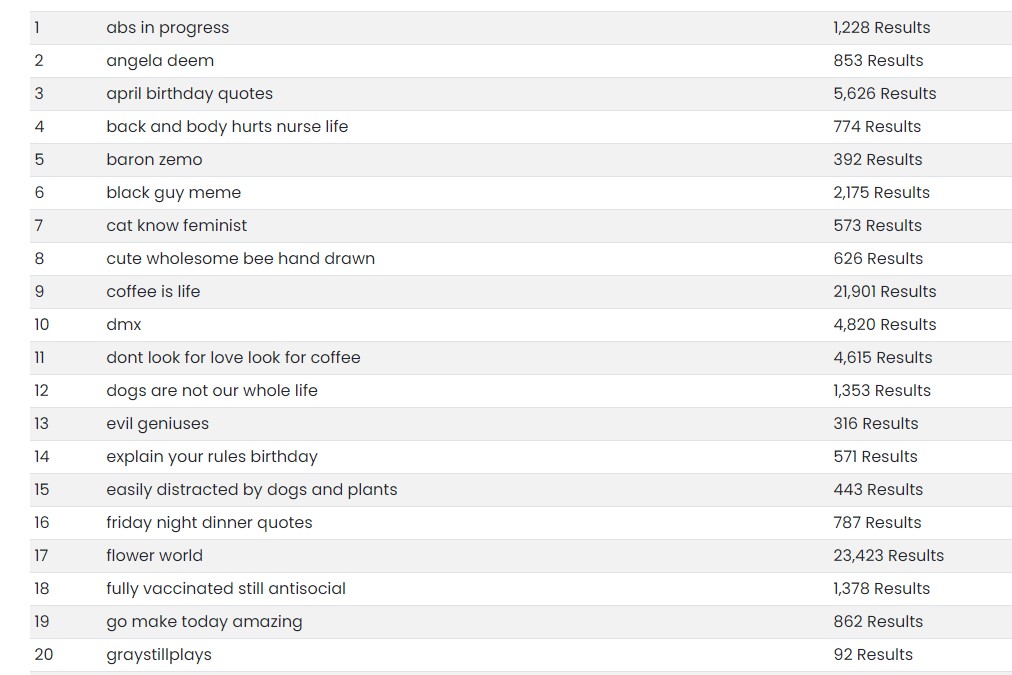 Evaluating trends
Many designers use bubble trends as their primary source for designs. You can find them here. (https://bubbletrends.herokuapp.com/trends) The site lists the trending searches on Redbubble, and a lot of designers hawk this site daily and make designs based on the daily results. Let's take a look at the top 20 results for today, but first something to think about: The results on these sites can be skewed. The number one search is abs in progress, when a designer sees this, he or she will often go to Redbubble and search for the term and look at the resulting designs. This artificially increases the validity of the term and raises it higher or keeps it on top. The thing you don't know is how many non-designers searched for this term.
The first thing you should notice about this weeks top twenty is the copyrighted material like Baron Zemo (from the Marvel Cinematic Universe) or celebrity names like DMX or Angela Dean. Copyrighted material cannot be used to make print on demand designs unless you are working with a partner program through Redbubble or other service, and celebrities are protected just like copyrighted material. You cannot use likenesses of celebrities in your designs without permission. The rest of the searches are reasonable sources for designs depending on hos many results there are. The only other point I would make about this week's list would be the fully vaccinated still antisocial term. Some print on demand services are still purposely pushing results for Coronavirus and Covid-19 searches down into the lower rankings. They do not want to be responsible for people profiting off of the pandemic. I would use this one at your own risk. As of this writing, many services consider it a grey area but I personally don't use it in my designs.
So is Bubbletrends a good site? Is the information valuable? It depends. I am telling you about it and you are checking it out today. How many other designers have read this article and are using the site on a daily basis now? The viability of a trend is determined by your ability to get a quality design out to market.
Conclusion
What sources do you use for finding trends? Are you struggling with low or slow sales on Redbubble Teespring, Merch by Amazon or other PoD service? Drop me a message and let's talk. Please share this article with your print on demand communities and get out there and get designing!