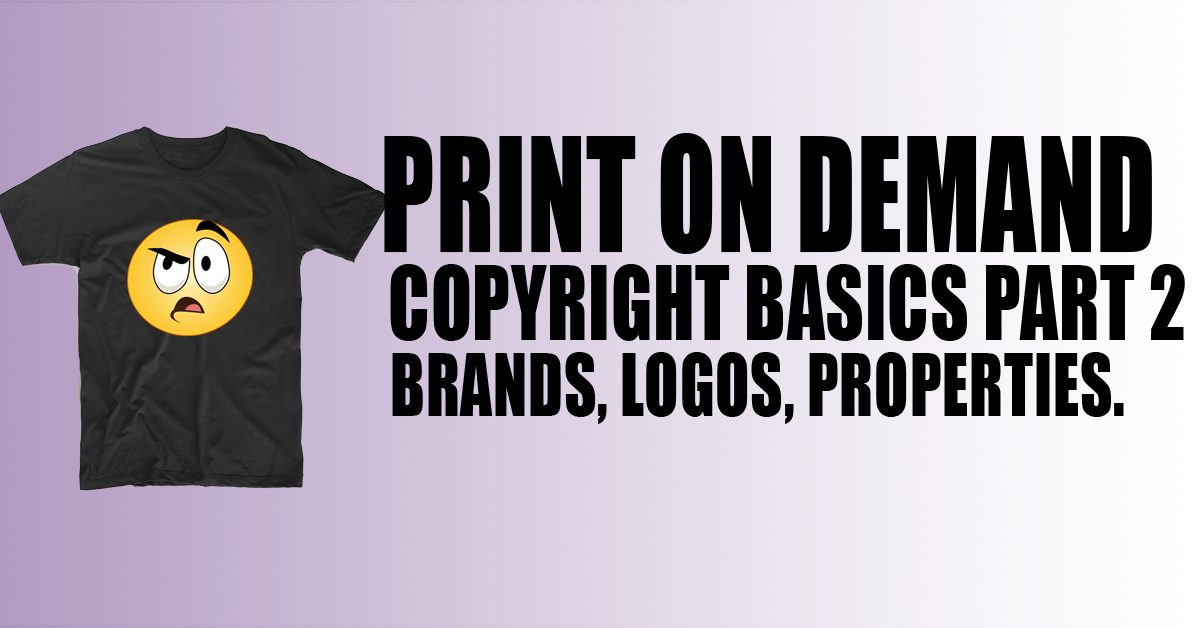 If you are new to Print on Demand, you might have shared some of your designs only to have people in the forums complain about copyright infringement, stealing, and all sorts of other things. How do you know when you are creating a design if the material you are using is copyrighted? Here is a quick list of topics that should not be used in your print on demand designs (unless you have permission from the owners of the property, or you are working with a partner program.)
I compiled this list after doing a very quick search on Redbubble, Teepublic, and Teespring. There are many more examples, this is not intended to be a complete list. I often see examples of designs using many of the properties on this list, and it seemed like a good idea to compile a list of areas that you should stay away from when making print on demand designs.
Brands
Starbucks
Food – Pizza Hut, Chilis logo, etc.
Clothing Brands like Nike and Adidas
Soft Drinks like Coke, Mt. Dew, and Pepsi
Alcohol like Budweiser, Johnny Walker, Jack Daniels
Cars, not just the names but the shape of a car is also copyrighted and therefore should not be used without permission.
Toys, like LEGO – they are copyrighted.
Any logo for any brand or franchise. This includes Star Wars, Star Trek, Marvel, DC, and any other logo which is recognizable and represents a brand. This also extends to logos that might be more obscure like the logo for the Empire or Rebels from the Star Wars franchise, they are all copyrighted and may not be used in your designs.
Electronics – Dell computers, Cooler Master, Sony, Apple (iPhone iMac, etc.) Camera brands like Canon, Nikon, etc.
Catchphrases and marketing phrases – D'oh from The Simpsons, Just do it from Nike, I'm loving it from McDonald's
Cartoons and Television
The Simpsons are owned by Fox who is owned by Disney, they have scores of lawyers that scour the internet every day looking for people using their property without permission
Any Disney Character – Baby Yoda and The Mandalorian, Lino, and Stitch, Beauty and the Beast, Lion King, Aladdin, etc.
Star Wars – R2D2, X-Wing or Tie fighters, Mandalorian armor
Marvel Characters or the logos for those characters including Iron Man, Spider-Man, etc.
DC Comic Characters and their logos – The Punisher, Batman, etc.
Videogames
All aspects of a game, including the characters, the game logo, etc. Among Us, Pokémon, Kirby, Mario, etc. This is especially true with the Among Us franchise, they are a smaller company and are currently working toward creating their own merchandise. The developer has requested that people making PoD gear with their designs please stop.
Music
Music, lyrics and band logos are all copyrighted and should not be used in your designs. This includes just a few words from a song or the musical notes for a song's passage. Art from album covers should also not be used, even if it is "only part" of the artwork.
Too many rules
It can seem like with all these areas that you cannot make designs from, that there is some sort of conspiracy or the world is against you making merchandise for your favorite band, or game. The reality is that if you make a shirt with the Nike Logo or the words Just Do It and you make money, then you are making money off of a brand that you do not own. Another example is the team that made the game Among Us. They worked very hard on their game and there was a significant investment in time and money that went into creating the game. It is not right for you to take their characters or other aspects of the game and make a design so you can make money off their hard work. You might think that a big company like Starbucks would not care if you made a design with their logo, but they most certainly will. The design you make can hurt the brand, and this can get you into even more trouble. While searching, I saw a Baby Yoda drinking a beer with a pot leaf, alcohol and drugs can do even more harm to a brand by associating them together in a design, and Disney would be even more aggressive defending this sort of case.
Conclusion
So, if you can't use any of these properties when making your design, what are you supposed to do? Create your own stuff. But what if your design isn't as exciting or interesting without the words Just Do it? Create your own catchphrase, don't expect Nike, who spent millions marketing Just Do It to let you use it for free. What if your design isn't as cool without the Among Us characters? Create your own. It is all plain and simple. If you didn't create the art/character/drink etc. DON'T USE IT!
Now get out there and get designing!