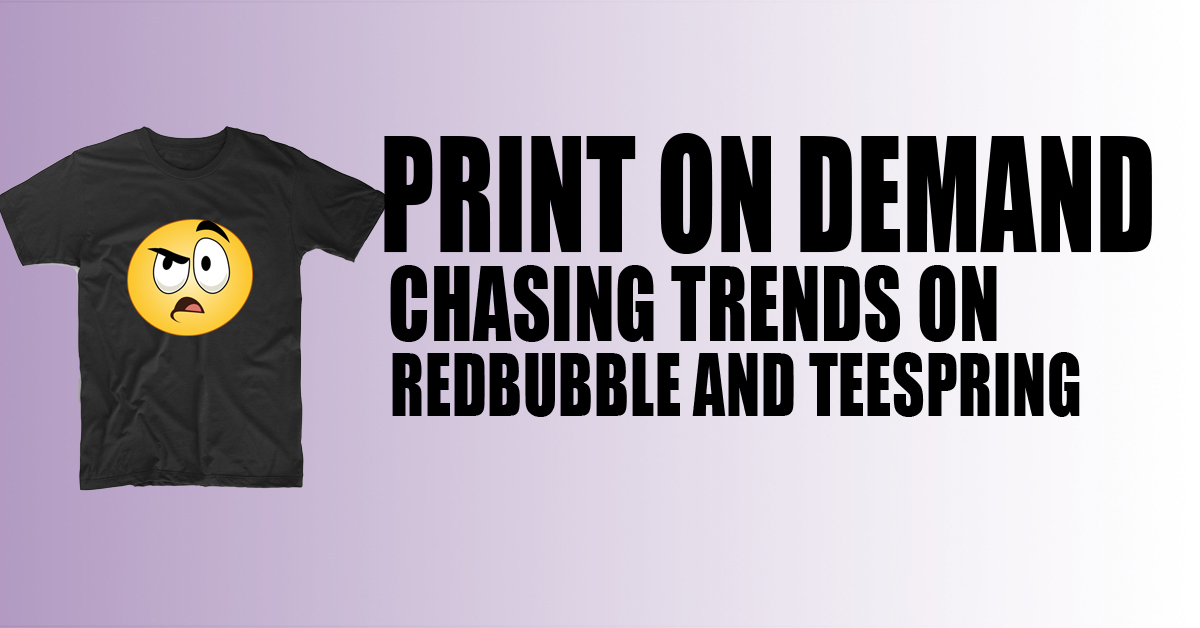 Finding the next elusive trend for Print on Demand can be a time-consuming and frustrating process. Most use the Bubble Trends tool to get a snapshot of the day's trends on Redbubble then start making shirts if the demand versus availability is reasonable. The thinking (and what most YouTubers will tell you) is that if the phrase "Big Cow" is trending and there are only a few hundred designs showing available on bubble trends, you should drop everything and make shirts with "Big Cow" because that is where the money is. The problem comes when you make your shirts and upload them and the sales just don't come. What is happening? And if the trends sites aren't the best place to look for trends then where do you go? Let's talk about it…
A moment in time
Most of the Redbubble trends tools are a snapshot of what was being searched for at that time. The numbers of available shirts are a bit misleading. You must realize that just like you, everyone else is searching for that next elusive trend to jump on. When the trends tool took the snapshot there may have been only a few hundred designs available, but unless you are there to jump on the new design trends when the next snapshot happens you are going to be behind. By the time you get your design done, how many others will already be available?
The tough truth
Chasing trends is a rough game, especially if you are not a graphic designer. If you use Canva or another service that offers pre-made templates for your Print on Demand designs, the truth is that they all look like the designs everyone else using those services are making. Someone who knows graphic design and does Print on Demand likely has a catalog of originally created assets ready to go. I would venture that they have a few different kinds of cows, maybe funny maybe serious that they can use right away. This designer likely has their own custom templates ready to drop their cow drawing into and all they need to do is add the text and a bit of polish and they will end up with an original custom design that is light years better than the one you created on Canva or on your smartphone. When the customer comes across a design that looks like 20 other people's or the custom original cow, guess which one is going to sell.
Making sense of it all
The reason you aren't getting sales from your trend chasing makes total sense if you take a step back. First, you must ask yourself if your designs can stand shoulder to shoulder with the other people that are making the same themed design. When I chase trends, I always make original content (not stolen from google images and not from Canva) instead of just making a text design. Text designs especially for trends are the low-hanging fruit that everyone goes for right away. Second, you need to ask yourself if the trend you are chasing or creating designs for is going to still be a thing by the time your design launches on the sites. If you are jumping on trends too late this could also be why you aren't seeing the sales you want. If the YouTuber you watch does a weekly trends video on Monday but you don't watch it until Wednesday night, how many designs are already available for that trend, and will the one you create on Canva be better than the ones being created by graphic designers? Think of trends like a crowded pool, if the pool is going to be open on Sunday and you arrive way later in the afternoon it is going to be very crowded and difficult to be able to swim and enjoy yourself. If you wait until everyone goes home for the day, you are going to get some time to yourself in the pool but it will be closing before you get a good swim in. Does that make sense?
Finding good trends
The harder something is to do, the more rewarding it can be. Using the Bubble Trends tool will give you a snapshot of trends from Redbubble, but something like Google Trends will give you more granular data that you can use to look at trends on Google, which will translate into trends for Print on Demand – but it will be more work than going to one website and having the information spoon-fed to you. A good source of trend data is Merch Titans or just looking around on Amazon. Keeping a close eye on trending topics on social media services like Twitter is also a good place to start, but again, it will be more work than just clicking a trends tool. Soon we will have a full review of Merch Titans and Google Trend for Print on Demand users, so stay tuned!
Conclusion
Did you find the information in this article useful? Support us by sharing this and other articles on this site to your Print on Demand forums. We can't monetize our content because we use copyrighted words, so we rely on our readers to share our content to support us.
Get out and get designing!