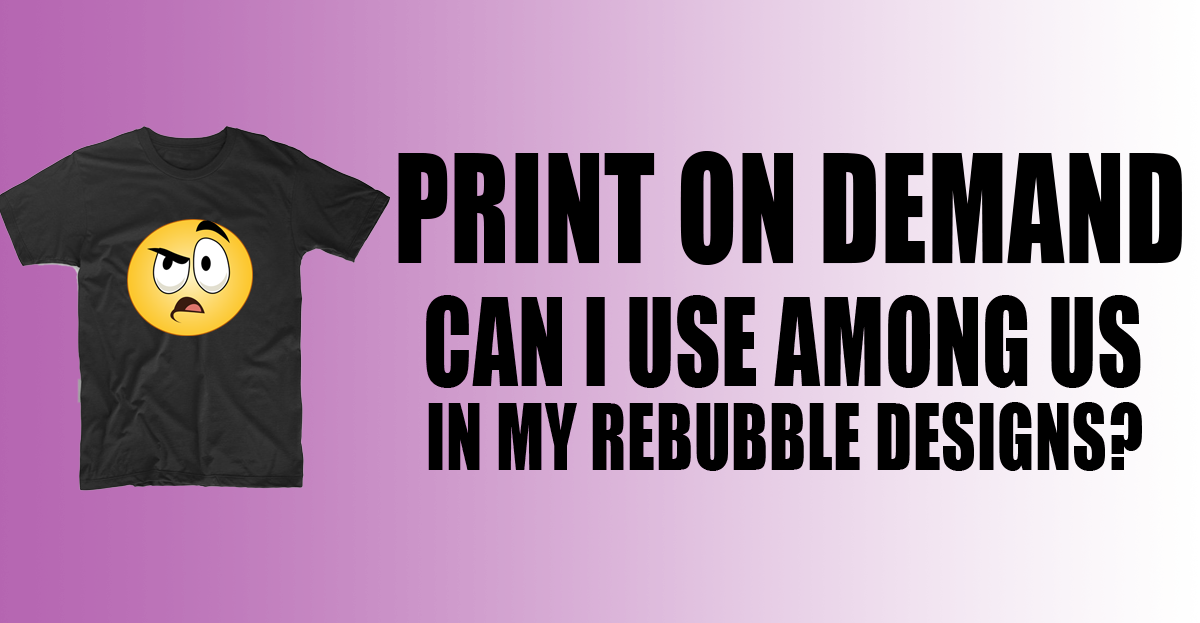 Among us is a multiplayer game that became popular during the early days of the COVID quarantine. The game was released by a small company called Innersloth. The viral popularity of the game and simple graphics inspired many designers to create designs for their Redbubble and other print on demand shops. The designs sold very well riding the popularity of the game, the only problem was that the artists that were selling the designs were doing so illegally.
Copyright
When the game's popularity grew exponentially, demand for shirts and other gear went through the roof. Since the company that released the game was relatively small (three people) they quickly realized people were profiting off their work and publicly pleaded for people to stop making designs featuring their game. Shortly, PoD services like Amazon, Teespring and Redbubble removed the designs from their services, though many designs even as of this writing are still available.
It doesn't matter if the team who made the game was a small indie gamer or EA, the fact remains that they own the copyright and rights to create materials with the design not you. Many designs have the mentality that if it is available on the internet, it is free and that simply is not the case. You have to have permission (written) to use any content in your designs that you did not create. What this means is that if you drew the characters from Among US and then created a design with the drawing you still did not create the design, you only copied it, creating a derivative work. You can't use that in your designs any more than you can use Baby Yoda in your designs.
Expressing yourself
If you are a fan of the game and would like to talk to them about submitting your fanart then by all means, contact them. The link to their website is below and from experience small teams are often very appreciative when they receive fanart submissions.
Conclusion
I hope this short article cleared things up for you. I get so many questions submitted via social media about using games like Among Us to make designs. Copyright can seem daunting and it can be tempting to try and subvert the system and use content you don't own in your designs. At the end of the day however, the only people you are hurting are the content creators large and small when you use their work without permission.
If you have questions you would like me to answer, feel free to drop m a message here. Remember I can't monetize this content because of all the copyrighted product names I use, so please do me a favor and support this blog by sharing these articles with your friends on social media.
Now, get out there and get designing!
Article Resources
Among Use team Innersloth
https://innersloth.com/index.php
Buy official Among Us merchandise!
Note: I do not own the copyright to Among Us, the phrase is used only for educational purposes. All rights and permissions are those of the copyright holder.