One of the best ways to get sales on any print on demand design starts with finding effective keywords. There are two schools of thought on how to use keywords in your listings: 1. Find relevant keywords that will drive buyers to your design and 2. Use popular trending keywords (even when they don't fit the description of your design). Which is the best approach and are there risks associated with either method?
Where to start
With the margins for print on demand sales so thin, I always prefer free solutions to paid ones, and besides who doesn't like free right? I recommend two services which are (as of this writing) free to use. They will require an email or free account signup. This can be easily sorted by just making a new Gmail account for your print on demand business if you haven't already.
Merchtitans
My go-to is the merchtitans.com keyword finder for Redbubble, it can be found here. Merchtitans does a good job of scraping the data from Redbubble listings when you type in your keyword or phrase. Merchtitans will collate a list of words and show you how many times they appear on Redbubble. Click the format and copy tags and it will present you with a list that is ready to be pasted into your listing.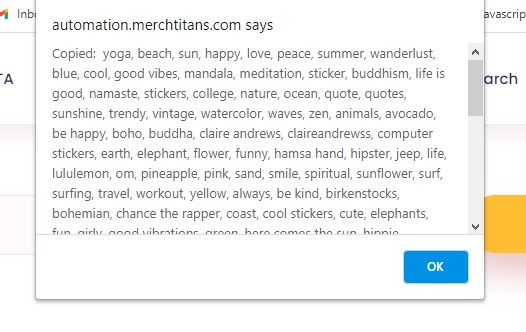 KWFinder
This one will require an email as well. You get only a few searches a day and in most cases, you only get the first five or so results. I consider this a decent resource, but to get the most out of this one you need a paid account. I have found that the results from KWFinder are fairly close to the ones that come from Google Adwords (which I will be doing an article on in an upcoming post.)
Relevant keywords
If you have a picture of a bear drinking coffee on the design you are listing, the relevant keywords would be bear, coffee and drinking. From there, consider using descriptors of the items in your design. Coffee cup, coffee mug, grizzly bear, cute bear, teddy bear, blue mug etc. Don't forget words like cute, adorable and the like. Clear use of keywords can get you far and most importantly keep your design from being removed from Redbubble and other sites which use keywords. Some of the best-selling products on these sites use a few clear keywords to describe the design instead of a million useless words.
Trending keywords
The other school of thought is to add keywords that are trending in the news and other media. The thinking is that when a buyer searched for these keywords on Google or other search engine, your design will come up and you will get your design in front of more eyes. In practice, adding irrelevant keywords or words containing celebrity names or other properties generally get you listed lower in the rankings when the customer searches for similar keywords to the ones in your listing. The automatic algorithms are also much more likely to flag or take your design down if you use these type of trending keywords.
Order matters
Algorithms change, and as of this writing, the sites like Redbubble that use keywords give more weight to the keywords that appear first in the listing. Fewer keywords also put more weight or emphasis on the words used. This also goes for Merch by Amazon so use your most important keywords in your first description boxes.
How many keywords?
Just because sites like Redbubble allow you to use more than 20 keywords doesn't necessarily mean you should use more than 20 keywords. I generally to keep my word count under 15. Put the relevant ones up front in the listing and then use them in your description. This will add even more weight to these words. Do words like best-selling top-selling and others help? Not as much as you would think. There are a lot of people listing designs every day and how many of those people do you think are using words like best-selling and top-selling? Those words become less weighty when a lot of people use them. You have to come up with words for your design that are unique to your design.
Conclusion
What do you think? did this article help you? then help me out by sharing this article with your print on demand forums and on social media.
Now get out there and get designing!