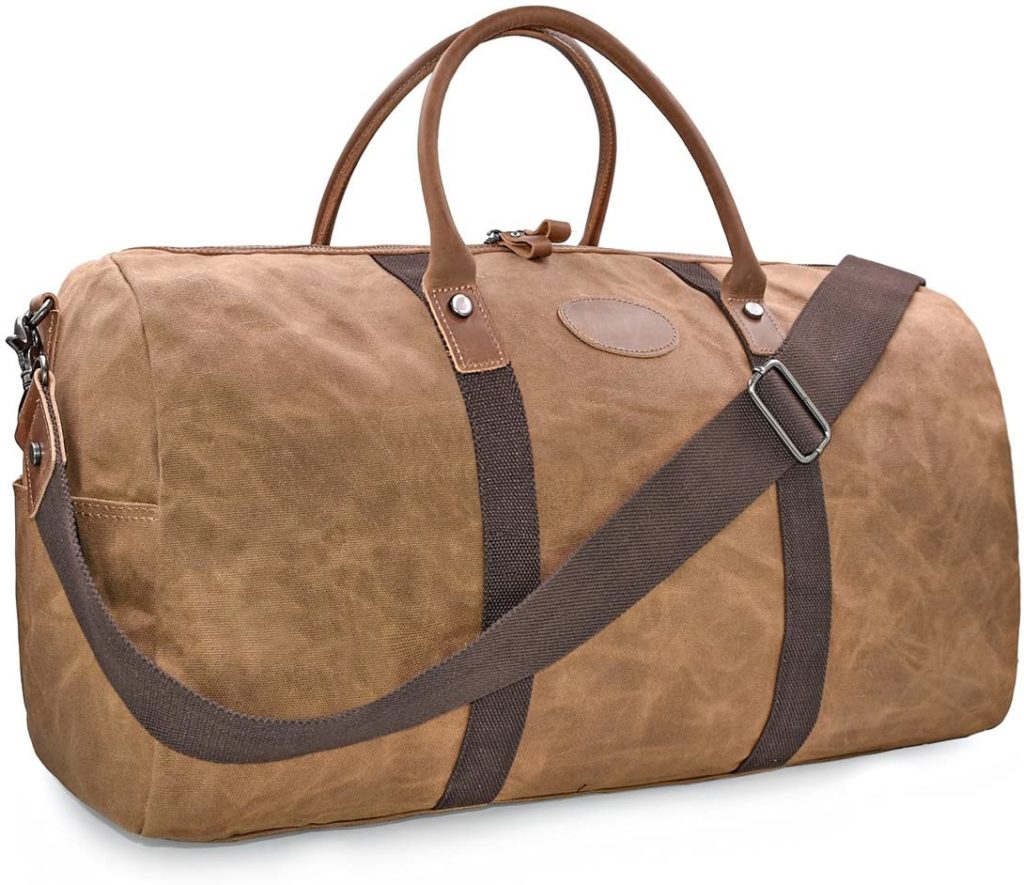 Get yours here: Travel Duffel Bag Waterproof Canvas Overnight Bag Leather Weekend Oversized Carryon Handbag Brown
Duffel bags are so great for weekend or overnight travel. Here at Epic Shit we get a ton of travel bags to review and almost never post reviews because they tend to be cheap and fall apart easily. With that im mind, enter the Travel Duffel Bag Waterproof Canvas Overnight bag from NEWHEY. I love a duffel bag that is roomy and has enough space for all my stuff for a weekend getaway, but still has pockets I can place harder to find things like my cellphone charger. How does this 46-dollar Duffel stand up to road trips, plane trips and weekend getaways? Read on…
Size matters
The most important features of a Duffel bag are the size and the construction. I have had Duffels bags that were just too big and once they were filled the handles felt like they were going to rip off. I would put this Duffel Bag squarely in the middle size range with dimensions of 22.83(L) by 11.8(W) and 11.8(H), the included shoulder strap expands from 27.9"–52′. When I think about Duffle Bag size, I consider smaller than this bag suitable for the gym, and larger than this more for a week-long trip. This bag holds enough clothing and supplies for a 2-3 day weekend trip or business overnighter. I consider this the perfect size for a grab and go over even a weekend roller suitcase. Before we got this, my wife used a weekend size Samsonite roller. Nice she saw the quality of this bag, she bought one for herself. They are great to stuff with clothes and toiletries and throw in the car for a getaway. The interior pockets keep stuff organized so you don't have to dig around in the bottom looking for loose items like with other bags.
Construction
This is where I was really shocked. I expected a 46-dollar bag to be cheap, but this feels like a much more expensive bag. This Travel Duffel Bag is made of High-density waterproof canvas and has nicely rounded comfortable to hold leather handles. The stitching all around is top notch and it had four metal feet. The zippers are heavy duty and I have yet to have any issues with them even when my bag was stuffed to capacity. I love that the canvas is waterproof, we tested this on our first outing last year. When we arrived at our hotel, it stated pouring and even after sitting in the rain for a few minutes all the clothing inside was still bone dry. I doubt the bag could handle being submerged of course but for the testing and rain exposure I have thrown at this top rated cheap little bag I am very impressed.
The bags come in a few different colors, brown and grey as well as camo patterns.
User experience
I have been using this bag for nearly a year now. I have stuffed it full and thrown it in the back of the car, stuffed it full and carried it on top of my suitcase on a cross country flight and left it sitting in the rain while I checked into a hotel in the mountains. With all the wear and tear this bag has endured I would expect to see a lot more fraying on the edges or stitching, but I am so far extremely happy with the quality and build of this Travel Duffel Bag. I have to say I really love this little bag.
Conclusion
I'm shocked at the quality of this bag for the price. I'm happy to recommend this to anyone looking for a nice medium, size Travel Duffle Bag that can easily hold enough clothing and supplies for a weekend getaway or short business trip. The handles are comfortable, and the shoulder strap doesn't dig into your neck when you are carrying it fully loaded. This bag really feels like a great alternative to a more expensive piece of luggage. I own two of them and am strongly considering these as Christmas presents this year for friends and family. Great bag, great value.
I love to hear from my readers! If you have questions about this or any review on this site, or If you have a product you would like us to review, drop me a message on Twitter or on the contact form here on the website. Have a great day!
Twitter: @EpicShit9
Colors and styles