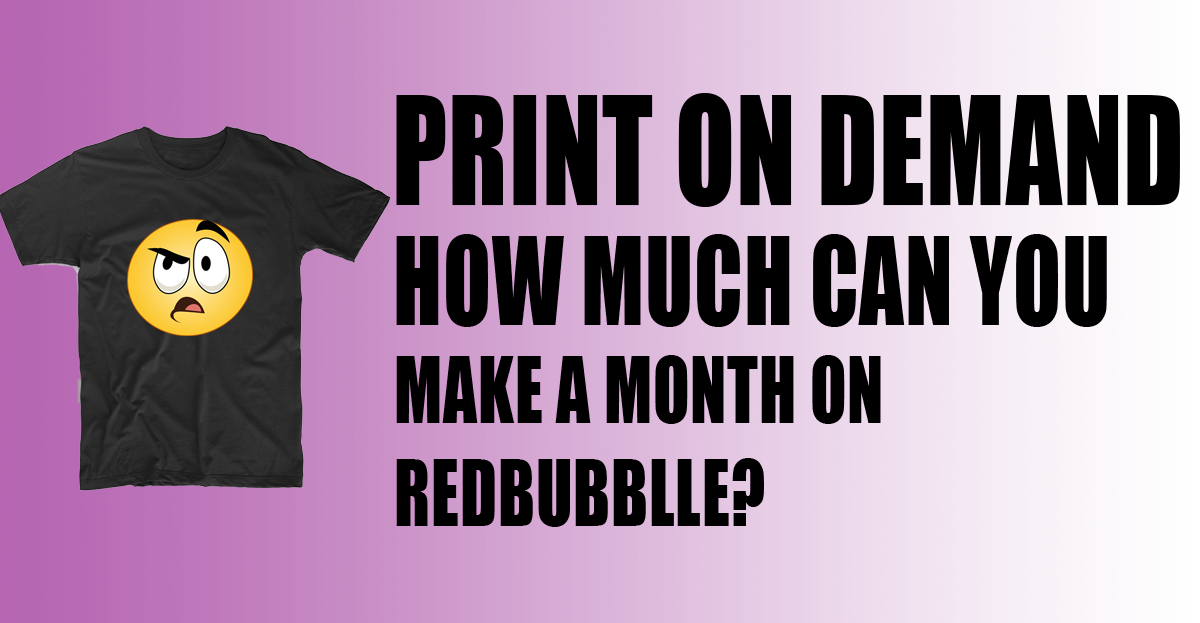 Print on demand sites like Redbubble, Teespring, Society6, Zazzle, and Teepublic attract a variety of aspiring artists, and those looking for a good source of internet-based passive income. I spend my days consulting would-be entrepreneurs and help them to improve the sales of their print on demand stores and consult on design quality. One of the most common questions I get is: "how much can I expect to make a month from print on demand?". To answer this question, one must look at the factors that go into running a successful print on demand business.
The bottom line
I'm not going to waste your time and make you read the whole article if you are just looking for a number, so here is the down and dirty answer: on average, not much. I say on average because there is an 80% failure rate for new shops on sites like Redbubble. New designers see the YouTube channels promoting print on demand as a get rich quick scheme that takes little time and yields awesome passive income. The truth of how much you will make on average per month lies in how much time you are willing to devote to your venture. Print on demand can be a great source of passive income that can grow as you are able to devote more time to it. Will it pay your rent? In most cases, no. Will it pay your electric bill? Once you are established it is very likely to generate on average a few hundred dollars a month. Most of the designers I consult with struggle to make the $20 monthly payout limit on Redbubble for the first six months. After the first few months, and the designer's work has gotten better and they have a better feel for the audience they are creating for, they will start to see enough sales to get paid at least the minium $20 each month. A good shop with decent evergreen designs can expect to make a couple hundred dollars a month on average.
It takes time
If you need money to make ends meet this month, then print on demand is not for you. Do not stay at home making designs instead of looking for a new job. Especially at first, the print on demand industry is not going to replace your day job. The YouTube crowd will lead you down the road thinking that you will make thousands a month with little effort. While this is certainly possible it is not the most common experience with this overcrowded finicky industry. They aren't going to tell you this because they want you to be hyped up and keep coming back to their "how to make your first sale" and "weekly niche review" videos because they make money every time you watch or share one of their videos.
If you opened your shop today with no designs to upload, expect at least a couple of months before you have enough designs in your shop to make your first sale. If you spend 15 hours a day and put up a thousand "meh" designs, or steal images from the internet to put on your shirts, expect this time to take much longer. The best course is to research your designs, find a good niche to work in, and start making good looking well laid out designs that people want to wear.
Two paths
Designs in print on demand shops fall into two general categories, trends, and evergreen. Trends are the hottest stuff going on in social media and often mirror trends in meme culture. Evergreen designs are ones that are always going to sell like I love my Dog and Teachers are cool etc. Chasing trends can be profitable, depending on how you go about it. If you follow the YouTube creator's content and make designs based on their trend suggestions you are going to fight for every sale tooth and nail. If you find your own trends by watching the news and social media you can likely identify a trend and jump on it much faster than waiting for someone on YouTube to tell you (and all their viewers) about it. Chasing trends also means you need to spend more time designing for the latest market shift. Depending on who got to the market with the trend before you (and how good your design is) one can do well or very poorly chasing trends. Most of the people I consult with are chasing trends and getting into the market late with a design and not understanding why it is not selling, or making poor quality designs. This can be a frustrating way of doing print on demand and is the most common reason people quit.
Sales ebb and flow
Another aspect you should be aware of when it comes to print on demand is the way the market tends to rise and fall in terms of sales. As the year progresses, there will always be birthdays and other special occasions for people to shop for, this will be your trickle income, even on slow months. Holidays will be better, like Valentines Day, Cinco De Mayo, St. Patrick's Day, and the like. Expect to see a jump in revenue around this time if you have good looking designs in your shop. Most shops will see their best results in Q4 around the Halloween, Thanksgiving and Christmas, and New Year's Holidays. As long as you are not relying on your PoD shop to make rent then as the year goes along it can be a nice surprise when you have a good sale month or hit a trend just right and see some good income.
Designs matter
Your sales are all about the quality of your designs and your ability to promote and advertise your work. Finding a good mix of evergreen and trending designs will help you maintain consistent passive income from print on demand as the year goes along.
Conclusion
Did this article scare you away? Print on demand can be a great source of passive income, but you need to approach it with realistic expectations. Print on demand isn't going to pay your rent next month if you just started today, but it can become a nice source of trickle or passive income as the year goes by.
Final thoughts
I have been asked numerous times over the last few months to create a paid guide for my print on demand method. Would you find this interesting? It would include everything from the basic setup and business plan to strategies for file archiving and asset management. Getting your first sales and promoting your work would of course be a significant part of the guide. I'd be interested in hearing your thoughts about this, feel free to drop me a message here on my contact form.
Now, get out there and get designing!