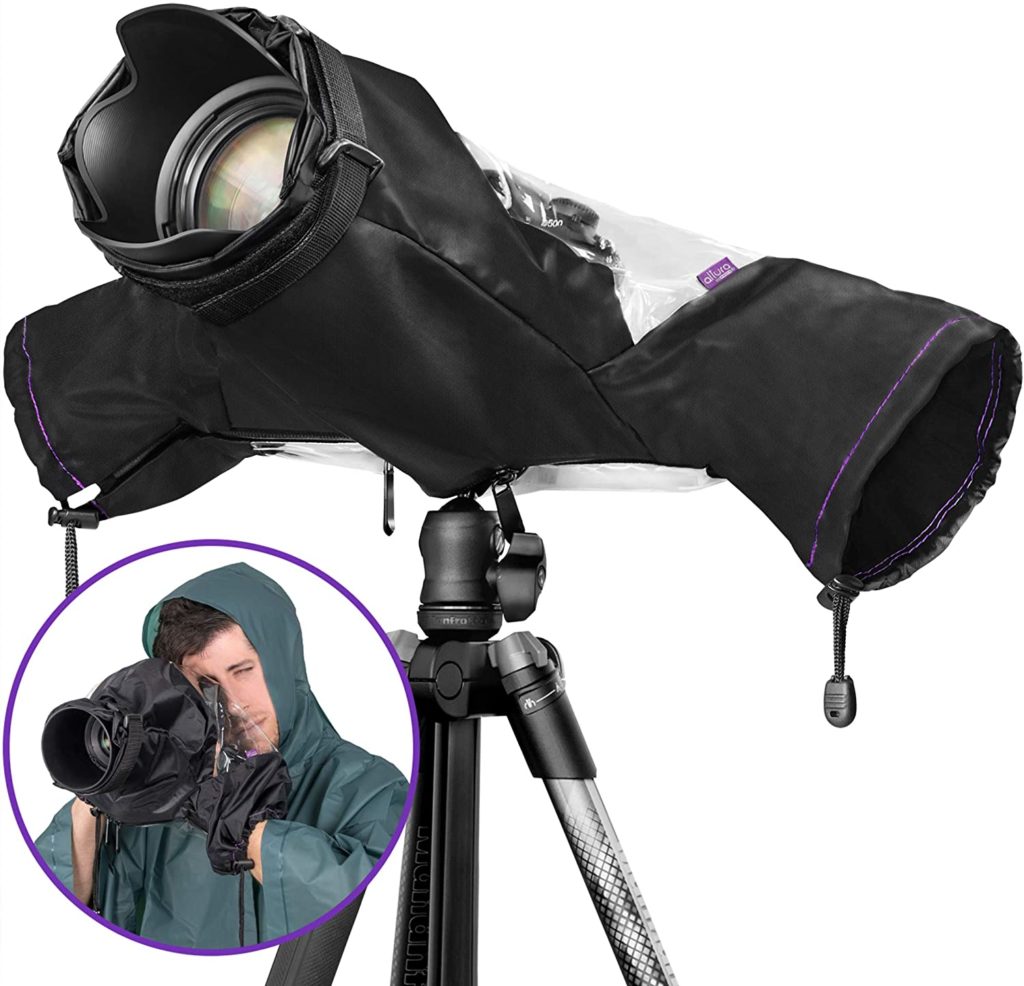 Get yours here: Altura Photo Professional Rain Cover for Canon Nikon Sony DSLR Mirrorless Cameras
I ordered my Altura Photo Professional Rain Cover Protector for DSLR Cameras about a year ago and wanted to try it in several different conditions before writing this review. So far, I have used the cover in rain, snow, and blowing sand and it performed flawlessly keeping my camera dry and free of debris through the toughest downpour. When I bought this camera cover, Amazon had it top rated and I can see why, it works very well.
A raincoat for your camera
I shoot with a Canon 5D mark IV, and often use the 70-200 f2,8 IS II with this rain cover. It is difficult to get too excited about a rain cover because it either does the job and keeps your camera dry or it does not. My camera(s) is/are weather sealed, but I use this rain cover out of an abundance of caution. My backup cameras are Canon 5d mark III and Canon 7D mark II, all my cameras fit perfectly (though snugly) in the Altura Photo Professional Rain Cover. I like the drawstrings for extra security over some of the cheaper alternative brands. When you are out in the elements, especially the wind you will appreciate the extra coverage the drawstrings provide. The armholes work well and are long enough to keep the camera from getting wet even in blowing rain. The clear back panel offers viewing of the camera screen and settings. I have read some other reviews that say this screen can discolor with age, but so far, I have not had any issues and I have shot in the elements a lot.
The rain
I used the Altura Photo Professional Rain Cover on the deck of the cruise ship during our trip to Alaska. Between the salt spray and rain, I was certainly concerned about the camera staying dry (and especially free of salt) while I was up on deck. I shot for over an hour at a time and the camera made it through dry and working perfectly. The Altura Photo Professional Rain Cover is designed to protect and shield a small or professional DSLR camera and it certainly did the job well. I even had several people borrow it and use it on other smaller cameras when I was not using it. This little rain cover has had Sony, Nikon Fuji and everything else in it with no problems.
The snow
I was invited to shoot the winter games for the Special Olympics in Colorado, and the day of the event was not nice at all. With blowing snow, and an average temperature of 10 degrees, I decided to use the Altura Photo Professional Rain Cover to keep with camera free of melting snow. I think the cover helped to keep my hands a bit warmer than other times I have shot without a cover in blowing snow. The cover is made from high quality waterproof nylon, so it wasn't insulating by any means, but the cover did seem to help maintain a bit of heat from my hands and make the long day shooting a bit more comfortable.
The sand dunes
The last harsh environment type I tried with the Altura Photo Professional Rain Cover was in the Great Sand Dunes in Colorado. I shot most of the afternoon and into the evening with blowing sand. There is nothing worse than getting sand in your lens or camera housing (well other than salt water of course). Maybe this cover was not intended for blowing sand as much as it was for rain, it did a great job. After the sunset, I walked back to the car and took the camera out of the cover and was pleasingly surprised that it was very free of sand and grit. I appreciated the cover protecting the top of my tripod as well. Now, if they only made one for the tripod legs so they didn't get sand in them!
Conclusion
After a year with the Altura Photo Professional Rain Cover I can say I would happily recommend this to another photographer. The dual adjustable sleeves are great and have worked well with everyone who has used this cover. I also really like the protection from the full-length double zipper. The cover works well and provides access to camera controls whether hand holding or using a tripod. It is tough to get excited about a rain cover for your camera, but if I was going to, this would be the one to get excited about.
I love to hear from my readers! If you have questions about this or any review on this site, or If you have a product you would like us to review, drop me a message on Twitter or on the contact form here on the website. Have a great day!
Twitter: @EpicShit9