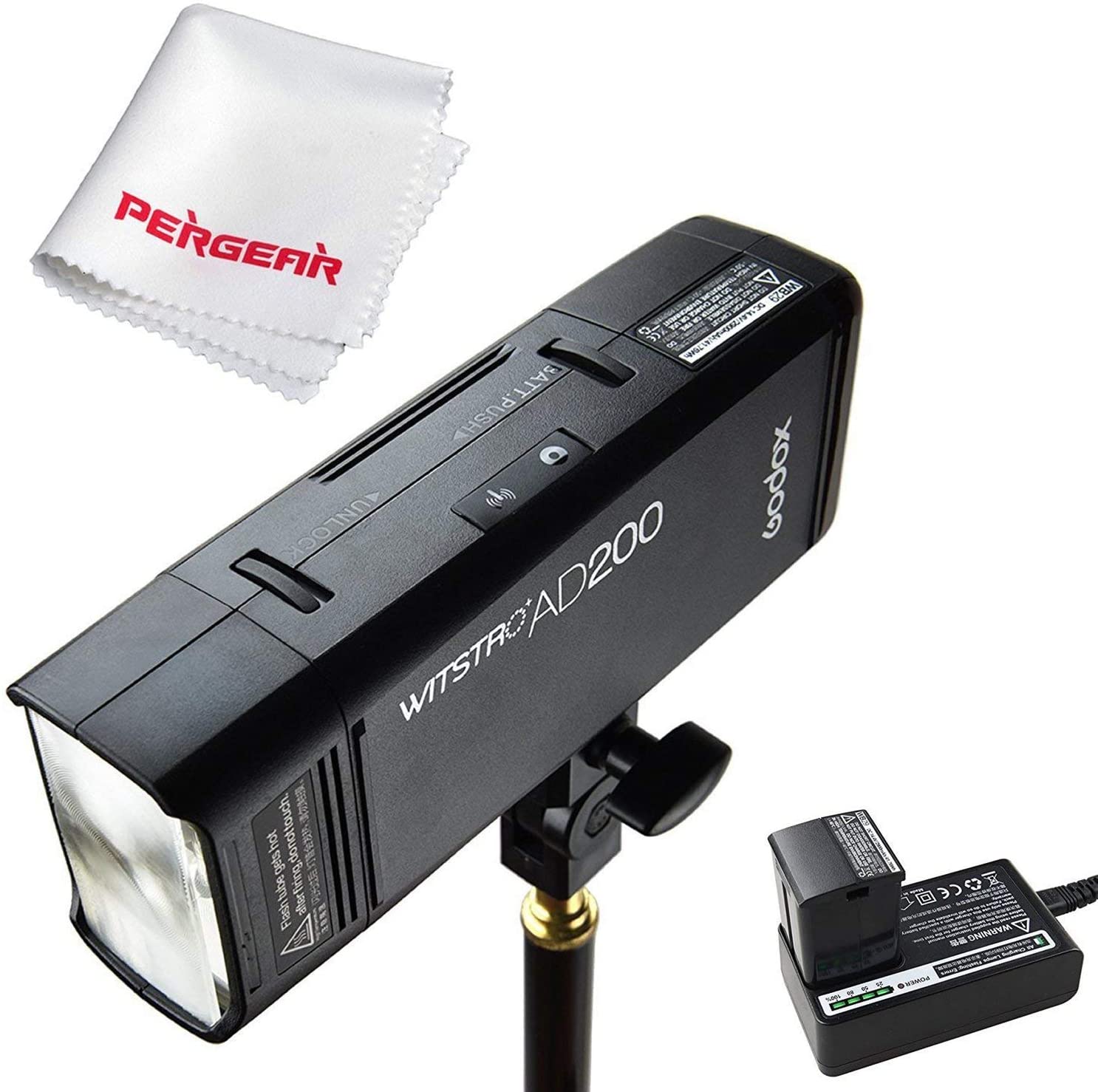 Get yours here: Godox AD200 200ws strobe
Photography gear is so expensive! Nearly every day I read on photo forums where people are looking for budget gear that performs as well as top rated equipment. Let's put this in terms of cars, if you are looking for a car that drives as well as a Porsche and will retain nearly all its aftermarket value but costs 1/5 of the price, prepare yourself for disappointment. If you are looking for a suitable vehicle that will handle well in the snow and maintain much of its aftermarket price, a Subaru might be the ticket. Sure, it won't have the power of the Porsche or the people checking you out on the street as you drive by, but it will get you where you need to go and be more than functional. Let's be honest, who can afford a new Porsche anyway?
When I see people saying they like the way a Profoto strobe looks, but they are on a tight budget I always recommend the Godox AD200 or AD200 PRO line of strobes. There is a ton of information on these strobes, so rather than rehashing the same old material, I will focus (yeah get ready for some photo groaners) on some areas of confusion with these units and tell you about my experience shooting a body of work that has been exhibited many times.
Clearing the confusion
Whenever you do research on the Godox AD200/AD200 PRO line of strobes, you almost always see them mentioned with the Flashpoint eVOLV200, this is because they are the same unit with different branding. The camera store Adorama re-brands the Godox line of strobes to their Flashpoint brand. Same units, same batteries, (in most cases) same packaging and all the accessories work on the Godox or the Flashpoint units interchangeably. Which one is better? They both great, Godox has great customer support and a call will usually yield very fair returns or exchanges, which is also true for anything bought from Adorama under the Flashpoint brand. Since all the accessories fit either unit, I consider them interchangeable. I personally have the Flashpoint units but have friends with he Godox version and they are pretty much the same unit.
My other strobe is a Porsche
Full disclaimer, I usually shoot with Profoto gear, but sometimes it is just too bug and heavy to bring with me if I am doing a location shoot. I shoot for my work all over the United States, and I used to use pelican boxes and bring my big strobes with me everywhere, but eventually I got tired of the hassle and put together a smaller, lightweight location shooting setup which I centered around a couple of AD200s. The AD200 units are just a bit bigger than a standard flash and have four times the power and a lot more versatility.
Lighting differently
When putting together the components for the best cheap location shooting setup, many might be tempted to run towards a top rated flash like the Canon 600EX II series. I don't personally like the camera-mounted strobes as much as I used to. I don't think they have the versatility that a multifunction strobe like the AD200/eVOLVE200 has. The strobe comes with the Fresnel head, (like the head of a speedlight but doesn't zoom) but for my work, I primarily use the included bare bulb head in a strip softbox or the 32-inch umbrella from Godox. The bare bulb head produces omnidirectional light and I have found it to work exceptionally well in a softbox or umbrella. If I am looking to have precise control over the direction of the light, when shooting product images or low key portraits I will use a strip softbox, otherwise portraits work well with the umbrella, giving a larger spread of light suitable for standard headshot type portraits.
The Fresnel head, in a softbox gives a stronger hotspot (like any standard camera mounted flash would) but is more efficient than the bare bulb head. When shooting on battery powered strobes, every consideration must be made to conserve power and squeak every shot out of a battery when on location. How does the AD200 do in terms of battery life? The documentation boasts 500 plus flashes at full power. Does it live up to the hype?
Battery Life
I know what you're thinking, 500 full power flashes on a single charge with a battery this small seems inconceivable. When I first purchased the AD200 I was terrified the battery would give out the first time I took it as my key (primary) light on a location shoot. The first shoot I did with the AD200 was a low key Bodyscapes style portrait session, so I was not pushing as much power as you would with a standard portrait session. I ended up shooting around 50% power most of the day and after 1000 images I was done with the shoot and still had plenty of power left in the battery to keep going. I set myself up for success shooting lower power for the first shoot purposely and I was very happy with the results. The strobe performed very well, experiencing only one misfire during the shoot.
Feeling quite confident in the AD200 at this point, I scheduled a regular portrait shoot where I would be overpowering bright daytime indoor light. I didn't buy a second battery for the AD200 as I was determined to run it out of power during a shoot. Would this relatively cheap strobe have enough power to last through a portrait session where I would be pushing the power capabilities of the unit? I setup with AD200 in a Godox S-type bracket which would give me the ability to attach a 32-inch Godox umbrella. Side note: I'm not a Godox fanboy or anything, I just happened to find all this Godox gear on sale at Amazon. Setting the exposure my ambient light, I fired up the AD200 in High Speed Sync (HSS) since at ISO 100 with an aperture of 5.6 (because I wanted the background to be somewhat in focus) I was at 1/800 shutter speed which put the unit in HSS mode. I shot all afternoon and ended up with just over 500 images for the day. With the ambient light, the AD200 spent most of the day in full power and after the shoot I still had enough power to shoot more.
I have shot with the unit many times since that day and I still have never bought a second battery and to this day I have never run out of power on a shoot. It appears Godox underestimates their battery capacity. I have since become very comfortable with the power consumption and have yet to run into a problem.
The only downside to the battery for this unit is that it does take a long time to charge to full. Not a big deal, and I haven't ever had to wait for it to charge during a shoot. I suppose the first time this becomes a problem for me I will buy a second battery for the unit.
Triggered
I paired the AD200 with the Godox Xpro-C TTL Wireless Flash Trigger for Canon (They have them for Nikon and Sony etc.). The trigger will shoot up to 1/8000s in HSS. The Godox Xpro-C will easily convert TTL settings to manual with the press of a button and has a large easy to read screen. I really like the slanted design and size of the display. If you shoot with a lot of strobes you will appreciate the 5 dedicated group buttons. The 11 customizable functions also make setting up the trigger just the way you like it a breeze. It works perfectly with all the Godox strobes I have tried it with including the on-camera style units. Since the Flashpoint branded strobes are all made by Godox, the Xpro-C worked perfectly with the other Flashpoint branded strobes I have as well.
How does it drive?
Is the Godox AD200 and Xpro-C combination like shooting with a Profoto D2 or B10? No of course not. Is this setup perfectly serviceable and reliable? absolutely. I use this setup as my primary location setup and have had very few issues. It has never let me down on a shoot and I have yet to buy more batteries. If you are a machine gun shooter, then your mileage is going to vary. I would say I shoot at a normal pace and the AD200 has little issues recycling in time before the next shoot. My use scenario is low and normal key portraits and product photography. I don't shoot sports, but I would say that the recycle time (the time the strobe needs to get ready for the next shot) would likely be a bit slow if you were looking to do images of dancers in motion. If you are looking for this type of recycle time the Profoto D2 is probably a better fit.
I have shot with everything from cheap radio popper triggers cobbled with cord adapters onto 20-year-old speedotron strobes to current generation Profoto and Broncolor gear. The Godox AD200 and Xpro-C trigger setup is perfectly serviceable, and functions well. It isn't going to recycle as fast as a Profoto B10, but then it doesn't cost over $2000 either. If you are shooting fast, you might miss a shot here and there, but overall, it is a very nice rig to shoot with. I would recommend this setup to anyone.
Color
Here is another one of those things that other reviewers don't mention. I am a stickler for color, and one reason to use a manufacturer like Profoto over Godox is consistency of light output. The Godox strobes (just like all other top rated cheap strobes) has a tendency to shift light color or power a bit over the course of your shoot. Some shots won't be as bright, while others may be a bit off in terms of color (a bit). This effect isn't a big deal and is something almost every budget strobe does. The effects of this color and brightness shift is easily countered by including a color checker in your first shot and using their software to adjust the color and brightness of all the shots in your session. This is not a bit deal for me. To date, I haven't lost a single shot due to inconsistent light output. I use the AD200 in my professional work without problem. I only mention this point, because this is an honest review and if I were in your situation I would want to know. As a working professional, I don't consider it any more a problem than I would using any other budget strobe.
Accessories
The Godox AD200 has been widely adopted in the photography community so there are a ton of options for accessories. Batteries, brackets gels, barn doors and a million other accessories are readily available for this little strobe. If you shoot weddings, this is a perfect strobe, because it is light and put out plenty of power to shoot in most situations. I especially like that there are a few different heads available now, such as the LED head which turns the AD200 into a continuous light for video and a round head making the light output look similar to the Profoto A1. This really is a great little versatile strobe.
Conclusion
I reviewed the AD200 and Xpro trigger because this is the gear I use in my work. There are a million and one YouTube videos and written reviews for these units, but not all of them are totally honest about real-world experiences. The AD200 is a great alternative whether you are just getting started or if you are a seasoned pro looking for a reliable second or location kit. I love that I can throw this strobe into my camera bag with all my lenses and have a perfectly serviceable location shooting setup that is light and has enough power for portraits and plenty of battery life.
I love to hear from my readers! If you have questions about this or any review on this site, or If you have a product you would like us to review, drop me a message on Twitter or on the contact form here on the website. Have a great day!
Twitter: @EpicShit9
Links: